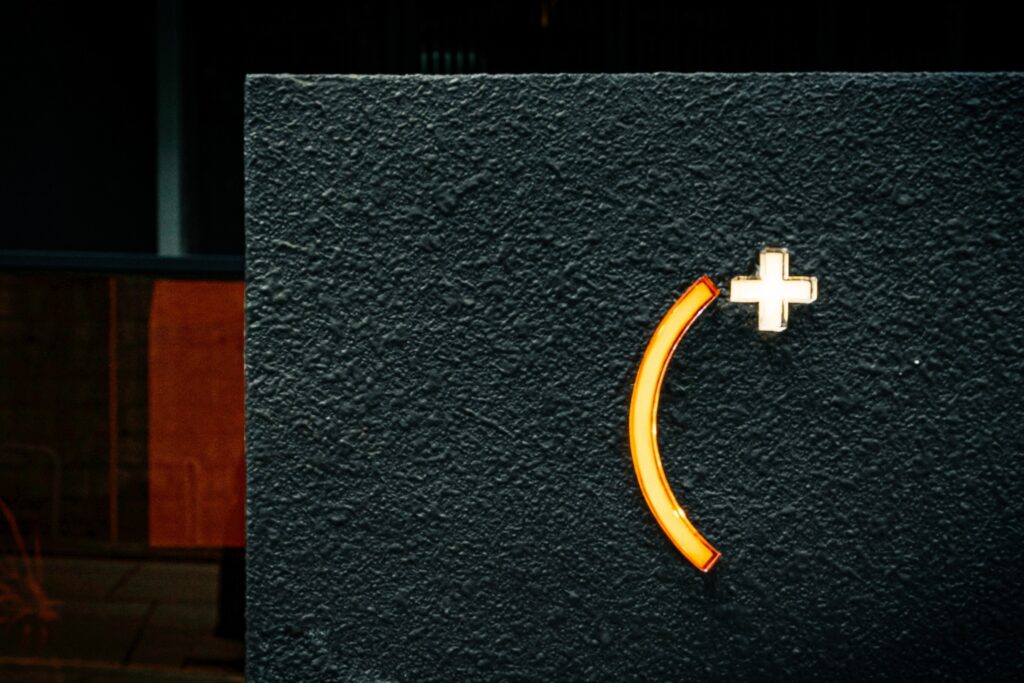 Steve Leung Design Group Debuts Club C+
Steve Leung Design Group (SLD) is thrilled to unveil the much-
anticipated Club C+: nestled in the vibrant neighbourhood of Central district and among Hong Kong's most exclusive venues, this premium private social lounge unfolds a unique journey of exquisite discoveries to a limited membership carefully selected by referral only. Mr. Steve Leung, Founder of SLD, tastefully translated his highly personal and signature aesthetics into a refined lifestyle space, blending Chinese contemporary design and British accents into a speakeasy-inspired venue to host the most exclusive clientele and prestigious private events.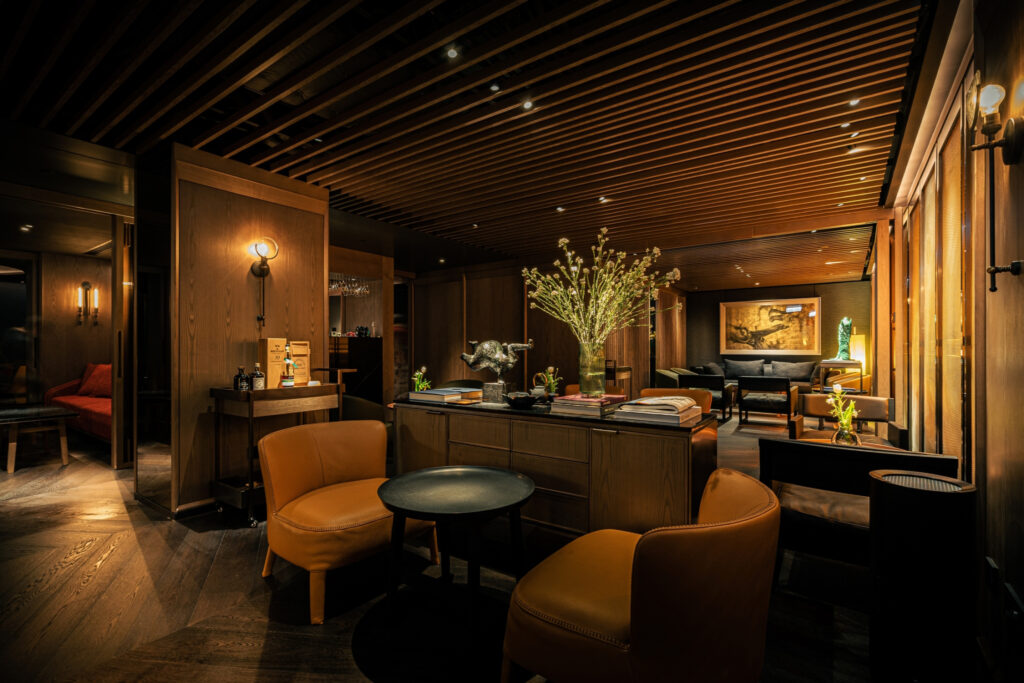 An Intimate Setting Embracing Visual Excitement and Flexible Functionality
The name 'Club C+' subtly recalls the hidden meaning of 'private home' in Chinese (私家), emphasizing the secluded privacy and utmost comfort of this exclusive space, where luxury connoisseurs can indulge and bond over traditional Cantonese delicacies, fine wines, rare cigars, and exceptional art pieces.

"Club C+ is my personal design interpretation of a comfortable home-from-home, a one-stop lifestyle destination where culture elites can savour the finest things in life," explains Steve. The secretive journey begins with a subtly illuminated Club C+ logo designed by Alan Chan, a celebrated Hong Kong designer, guiding members down to the discreet entrance set against a mysterious black façade. Venturing inside, generous floor-to-ceiling windows consist of progressive layers of apricot colour-filtered panels and bronze steel metal meshes which immediately showcase the daily lives of the picturesque Duddell Street Steps, exuding a retro and cinematic consciousness into the ambiance – a reinterpretation of signature Hong Kong movie scenes in concept. The sophisticated yet practical design responds to the refined needs of its members, offering secluded privacy at each time of the day, with the mood of the setting
constantly enhanced by the exposure to the passing-by of natural light through day and night.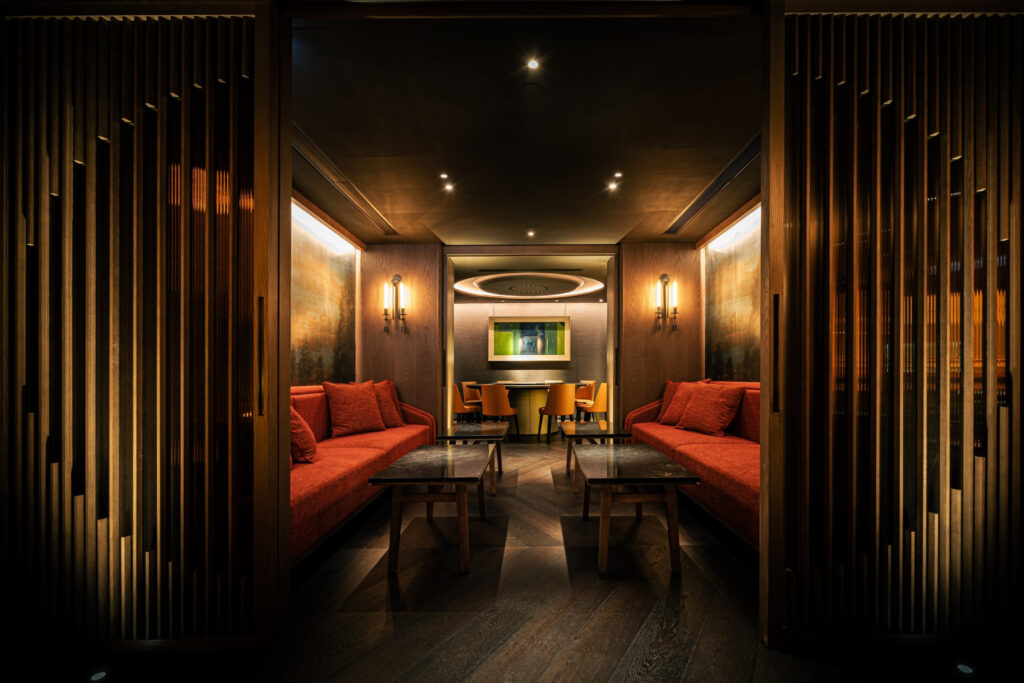 The design also plays an intriguing inside/out game: pedestrians can only imagine how the inside looks like, whereas members can have a full picture of the happenings outside without being seen. SLD ingeniously frames the layout with a thoughtful distribution of social areas to meet different demands of usage. Featuring two premiere lounges with contrasting colour combinations, each zone is designed for small group gatherings and connects seamlessly to a private dining room dedicated to hosting up to 12 guests in an intimate and upscale setting. The open-pore mahogany wood sliding panels with the bead-blasted black metal screen over frosted glass serve as a subtle transition between the areas, optimizing the spatial fluidity and overall space utilization. When the panels are closed, a Chinese Moon Gate is formed, resembling the archetype of a pedestrian passageway in traditional Chinese gardens. Club C+ deliberately customises a lavishly furnished cigar humidor room behind the bar, housing premiere cigars from different terroirs in symmetrical cabinets to add extra glamour to the ultimate lounge experience.

To transform Club C+ into a truly immersive escape, Steve especially partnered with Tino Kwan -among the world's most celebrated lighting design masters, to select a range of decorative lightings that endow the settings with vivid shades and accentuated personality. Paying close attention to the most sophisticated detailing and performance, the elaborate lighting solutions present a bespoke functional beauty with respect to classic Oriental and British aesthetics.

An Exquisite Interpretation of Deluxe Comfort with the Finest Artistic Touch
Contemporary elegance lays at the heart of the members-only lounge which holds art and private comfort as two of its most distinctive features. As an avid collector of art and beautiful things at large, Steve stages his beloved contemporary artwork collection at Club C+ to reimage a personal gallery with collectible pieces for exclusive appreciation. The art selection originates from legendary Asian masters, including Lalan – a pioneer figure in integrated arts, Li Huayi – among today's most important Chinese ink painting masters, Zhou Chunya – renowned Chinese artist known for his iconic Green Dog series, and Kim Tschang-yeul – regarded as one of the greatest
contemporary Korean painters. The masterpieces infuse a distinctive sense of artistry throughout each corner of Club C+, inviting members to stretch their imagination in an artistic realm.

Artworks are changed on a regular basis to ensure a constant element of surprise and unique stories to tell, with some of the carefully-handpicked pieces also available for personal acquisition. Steve endeavours to create a relaxed and connective space where exceptional experiences spanning from gastronomic adventures, curated art exhibitions and inspiring conversations with high-achievers across multiple disciplines can be expected. Conveying a strong sense of intimate privilege and exclusive belonging, Club C+ provides a bespoke retreat from the hectic urban lifestyle.